Easy access to working capital for MSMEs
---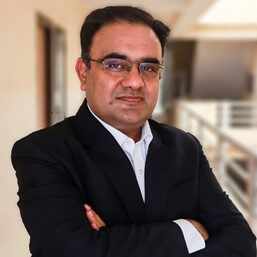 MSMEs have been leading the country's growth for the longest time, and throughout the pandemic they have shown that they are here to stay. The government is introducing regulations and legal reforms such as the Micro, Small and Medium Enterprise Development Act 2006; Factoring Regulation Act 2011; Payment & Settlement Systems Act, 2007 to support and facilitate processes.
Although the opportunity is enormous, unfortunately many traditional practices that are quite redundant are still practiced much more widely than the adoption of newer technologies and other instruments. The percentage of MSMEs moving towards digitalization and adopting new ways of doing business still pales in comparison to old-fashioned borrowings from friends and family practices. To stand the test of these rapidly changing times and bring scalable growth, MSMEs need to step up their game and move on to new ideas and implementation techniques yesterday.
The biggest challenge and its simple solution
One of the craziest aspects of MSMEs is managing their working capital. At first glance, this seems like a common problem that everyone is used to dealing with, but the biggest and most common mistake that hinders rapid business growth is how working capital is handled. In most cases, the line between short-term and long-term funds is blurring and companies are tapping into the wrong fund to meet an urgent need, which in most cases can be anticipated and avoided. The key is to delineate these two funds and create strict policies on using short-term funds only for short-term needs and vice versa. Sounds easy, but the implementation has its own issues. Here are some key rules that can streamline the requirements and save the business from unnecessary collateral-based lending and paying back huge interest on it.
Requirement and management
MSMEs need low capital expenditure and high working (working) capital. Fixed capital is easy to come by as asset-backed lending has matured in India over the past two decades. When it comes to raising working capital, the same solution does not prevail. Structured and intuitive working capital management will be the lifeline in turbulent times. With careful management of working capital, the business can cope with unforeseen disruptions and management will not have to work on renegotiating the terms of business contracts. Instead, internal actions can provide significant value.
ray of hope
Conventional bank financing as cash credit is no longer available to MSMEs, pushing them to look for innovative and alternative solutions to working capital financing and the simplest solution is factoring. Factoring has spread across the corporate world and finally with the amended regulations of the Factoring Regulation Act 2011, RBI has enabled more NBFCs (Non-Banking Financial Companies) to participate to the factoring process for MSMEs. The NBFC-Factor is specially rated to implement the factoring model, helping small businesses raise funds quickly, without any collateral or cash credit.
There are Non-Banking Financial Companies (NBFCs) that have embraced the factoring model, which offer simple working capital solutions to help businesses gain traction. In the process of factoring, the invoice issued by a vendor with whom an order has been placed becomes a business asset. The seller can split this invoice with a factor who, after obtaining the buyer's approval, immediately releases part of the payment to the seller. The remaining amount is paid as soon as the buyer makes full payment to the Factor. This transaction is carried out by exchanging a pre-determined commission to the Factor.
Built-in efficiency
The availability of factoring ushers in a new business model that will reflect the new India, where efficiency and growth are the cornerstones of national development. NBFC-Factors can drive this change as they help companies manage payables and receivables. Factoring companies are now also operating through digital platforms, accelerating the speed of their offering. The contract can be negotiated in such a way that the risk is entirely absorbed by the NBFC-Factor, with no risk for the seller. What is important is that the NBFC postman has good underwriting skills and a team that is tech savvy. Since all processes and transactions are approved on the NBFC-Factor's digital portal, there is total transparency. The information is accessible in real time by all stakeholders and can help the vendor plan their next round of production and delivery schedules, with cash instantly available.
Choose a good NBFC factor
A good postman will ensure that they also offer receivables management to the seller, so that the selling MSME can focus on their business. The factor must exercise due diligence and be satisfied of the buyer's ability to pay when due. The buyer's creditworthiness in the market is automatically improved. On the seller's side, using a factor helps bring in more business, by freeing up working capital. But sellers need to be wise when choosing which factor to partner with. A factor that offers a lower cost filler may seem like a good choice initially, but there are other aspects to consider as well. How good are their underwriting skills? What is his track record? Will the NBFC factor be able to free the seller from the rigors of back-office documentation and processing? Is the factor portal user-friendly? These, among others, are some of the attributes a salesperson should consider carefully.
Customer Protection
Since in India factoring can only be done by NBFC factors which are RBI regulated entities, both seller and buyer need not worry about confidentiality or any other legal concerns . Once they have identified the right factor to partner with, they just have to look inward to see how they can improve their business efficiency. The postman will take care of all matters related to the financing and growth of the business. In these turbulent times, factoring is an easy option that offers MSMEs a lifeline of hope.
END OF ARTICLE