RAF Pacifica Group sells assets in suburban San Diego
---
RAF Pacifica Group sold two Class A creative offices and mixed-use properties in Carlsbad, California, for a combined value of $86 million. Cushman and Wakefield represented the seller in the two recapitalization transactions. Clarion Partners and a private investor were the buyers.
Assets include:
Fusion, a newly repositioned 121,541 square foot Class A creative office building;
Lift, the city's first-ever creative mixed-use development comprising 53,205 square feet spread across two Class A buildings.
Valuable Assets in the San Diego Office Market
Clarion Partners has acquired Fusion, valued at $54 million, with a 10-year, $31.5 million acquisition loan provided by Bellco Credit Union. The seller completely repositioned the property in early 2020 from a former industrial facility. Fully leased to Alphatec Spine, the two-story development also offers 547 parking spaces at a parking ratio of 4.5 spaces per 1,000 square feet, according to CommercialEdge data.
In 2019, RPG paid $20.2 million for Fusion, according to the same data provider. The office building is located at 1950 Camino Vida Roble, less than half a mile south of McClellan-Palomar Airport. I-5, providing easy access to downtown San Diego, is less than 3 miles west. Several dining, retail and entertainment options are also available within a one mile radius.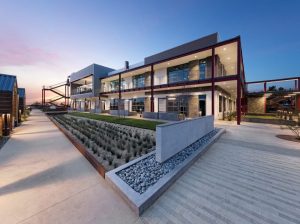 Lift, valued at $32 million, comprises two buildings in the award-winning community of Bressi Ranch. According to public records, the private buyer assumed the existing debt on Lift, an $18 million loan provided by National City Bank in 2020.
Building A offers two floors of creative office space totaling 33,770 square feet, while Building B has 8,708 square feet of dining space on the ground floor as well as 9,950 square feet of office space. of creative offices on the second floor. The development also has 278 parking spaces, in a parking ratio of 7.7 spaces per 1,000 square feet, according to data from CommercialEdge.
Lift offers amenities such as a multipurpose lawn, outdoor barbecue areas, a lounge with fireplace, outdoor meeting centers, as well as an amphitheater and rooftop terraces. The properties are located at 6023 and 6021 Innovation Way, respectively, less than 2 miles northeast of Fusion, and are surrounded by several businesses, entertainment and restaurants. Current Lift tenants, also brokered by Cushman & Wakefield, include Ezoic, Honma Golf and Coola Skincare.
Last month, a joint venture between Clarion Partners and LBA Realty sold The Espalade, a four-building office complex in Phoenix. The deal was valued at $385 million, according to the Phoenix Business Journal.